Crazy Bomber Slot Game
Become a hero in a land of destruction, destroying monsters, and being rewarded handsomely for your trouble. Crazy Bomber slot game is a design by Spadegaming, that assigned the duty of rescuing the kingdom in your hands. The monsters have invaded Bomber Land and require exterminating, are you up for the job?
Unlock Cluster Wins
Enjoy Special Wilds
Get a Bonus Multiplier of 200x
Features: Special Wilds, Cascading Reels, Cluster Wins, Multipliers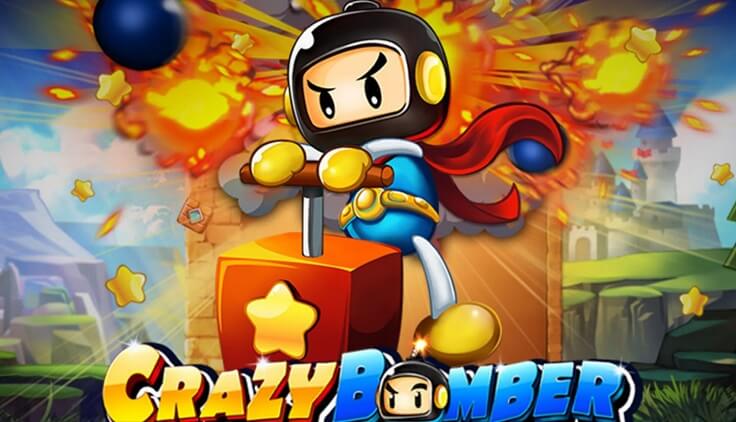 Overview
Bomber Land is in need of a superhero to rescue stolen treasure and rid the kingdom of the pesky monsters. Spadegaming figured out an innovative way of achieving this mission, exterminating the monsters with explosions. You can track the meter by lining up the monsters so that they can be destroyed adjacent to one another. A winning combination will count from either direction, top to bottom or right to left, land similar symbols to claim a hero's reward!
Explore more online slots to play for fun!
How to Play Crazy Bomber Slot Game
The slot title features a unique layout, starting off with a 5x5 grid that ultimately expands to 8x8 during the gameplay. To win, you must match 4 symbols on adjacent reels. The symbols will disappear, cascading down to provide a new combination to form. Each time a winning combination appears, the grid expands by adding an extra line. Every time you have consecutive wins, the grid will expand even further, ultimately reaching the maximum 8x8 grid.
Crazy Bomber is a low volatility game.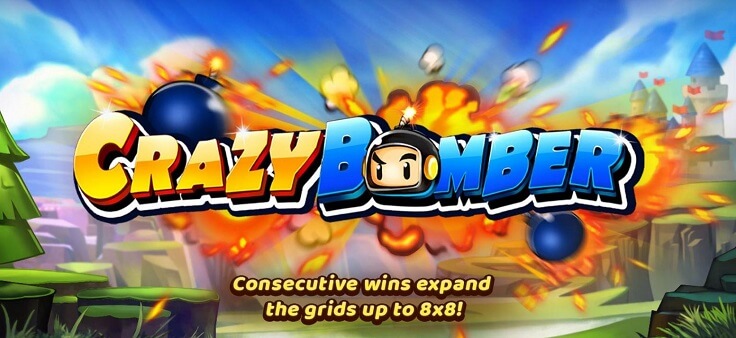 Crazy Bomber Bonus Features
Expect some exciting bonus features with lots of bang for your coins in Crazy Bomber. Here's how to get those explosive wins:
Cascading Feature
If you land any four matching symbols on adjacent reels you will get a prize. All the winning symbols will be removed from the reels and the others will fall down to fill the gaps to form new winning combinations.
Special Wild Feature
Each time a win happens, the reel will expand one grid at the top and right side. For each expansion, there will be a special wild awarded. The wild will substitute for all the symbols except the scatter. The grid will continue to expand with each consecutive win with up to an 8x8 grid. There are three types of wilds in this bonus, each with a unique feature:
Random Wilds – appear only in 6x6 grids.
Vertical and Horizontal Wilds – appear only in 7x7 grids and will remove an entire column or row. The symbols removed by the explosion will award a prize if part of a winning combination.
Exploding Wilds – only appear in an 8x8 grid and will remove all adjacent symbols when it appears and will award a prize if part of a win.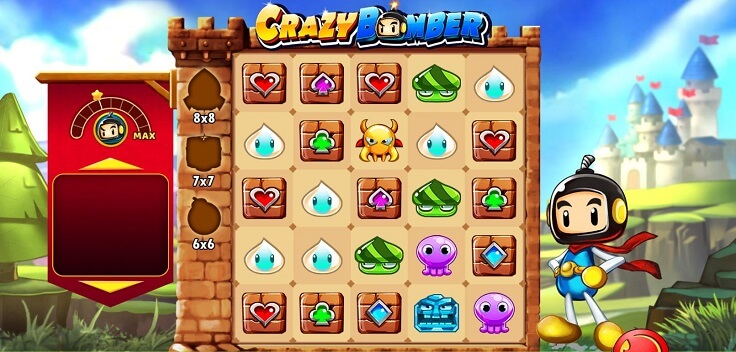 Bomber Coin Feature
The slot game has a special Bomber Coin feature, in which you collect coins that contribute to the Crazy Bomber Meter. Depending on how much you collect, you can get bonus multipliers up to 200x.
The Crazy Bomber enlists your assistance to help him locate the troublesome monsters that are causing havoc in the kingdom. You will enjoy the storyline and adventure of the hero as he triumphs against the monsters. The wins can only be realized with the help of his ever-competent sidekick.
Blow up annoying monsters for fun and claim your rewards in Crazy Bomber!
| Game Information | |
| --- | --- |
| Reels: 5 | Scatter Symbol: No |
| Paylines: 5 | No of Free Spins: 0 |
| RTP: 96.36% | Jackpot: No |
| Wild Symbol: Yes | Max Win: 200x |